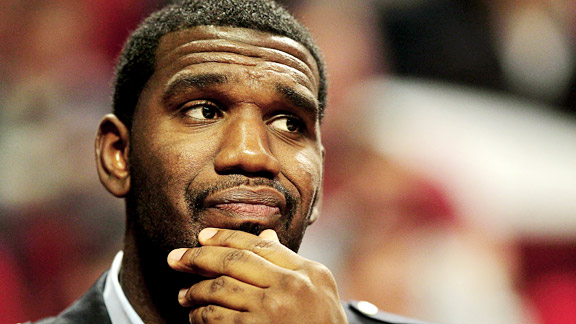 Every morning, we compile the links of the day and dump them here… highlighting the big storyline. Because there's nothing quite as satisfying as a good morning dump.
According to president of basketball operations Danny Ainge, the Celtics and Oden met to discuss both his health and where he may be able to fit in on the roster.

"We wanted to talk to Greg to see where he is physically," Ainge said.

The fact Oden is still drawing strong interest from teams despite his medical history is a testament to his talent. The Ohio State product had five double-doubles — including a 13-point, 20-rebound night — in the 21 games he played before being injured in his last season with Portland Trail Blazers.

"We're just finding out as much as we can and letting Greg know what we have here," Ainge said. "He's not ready to play now, but he's someone who's very interesting."

Ainge added there is nothing imminent with Oden, who is investigating his options as he tries to get his knees ready for another run at the NBA.

There had been a report that Oden was not interested in the Celtics, but Ainge said, "I haven't heard that. If it was true, then why would he fly in to speak with us?"
Boston Herald – Danny Ainge meets with Greg Oden
Remember back in the 2006-2007 when Paul Pierce injured his foot and was forced to sit lost for the season?  Big Al and Wally also suffered injuries all at the same time as Pierce?  Remember the outright tanking losses that mounted and piled up like a mound of trash?  It just so happened that it was the same season that not one, but two elite college basketball talents were projected as franchise altering players would be entering the NBA draft.  How convenient, the C's were reeling, were going nowhere and were irrelevant on the NBA landscape for years.  Greg Oden was going to change all of that.  He was going to be the savior.  The next Bill Russell, even though at 19 he already looked older than present day Russell.  Then the ping pong balls were equally cruel as they were 10 years prior when Tim Duncan was supposed to be the savior.
Well the wait is over.  After a new Big Three Era, Banner 17, 6 minutes from Banner 18, and a ECF Game 7 run last year, not to mention a lifetime of memories, Oden has FINALLY arrived.  Ok well maybe not so much like that but it is surprising since earlier reports indicated that he had zero interest in Boston.  Ainge is correct when he asks "why would he fly in to speak with us?"
A big man with rickety knees willing to fly to the ice cold Boston would not do so if he wasn't at least more than interested.  After all, couldn't he and Danny just speak over the phone?  Either way this is just Ainge doing what he does best: always searching for any player that can help the Celtics.  And the C's need bigs more than anything else for the short and long term.  If Oden can become into a Sam Bowie-like story, meaning resurrect a decent career after several horrific injuries early and provide 18-20 solid minutes off the bench then Ainge should absolutely sign him.  You can't teach height, and it would be intriguing if the C's could land him.
Related links:
ESPN Boston – Celtics meet with Oden | Boston Globe – Oft-injured Greg Oden meets with Celtics | CSNNE – Ainge has 'good conversation' with Greg Oden
Jason Terry still has faith in the C's chances for a title:
With all this positive talk, however, one might begin to think the Celts have gotten a little giddy from the extra oxygen in their open-air offense. But, key injuries and the opinions of others notwithstanding, Terry believes this team can still contend at the end.

"Oh, no question," he said. "I think we're going to surprise a lot of people. I wouldn't be surprised in the end if we're right there fighting for the championship. I mean, there's just something about this group. We're so resilient. We've been through so much. I think it's just going to continue to make us stronger and stronger."

Having won a Finals with Dallas, Terry is aware the game changes deep in the playoffs and that transition points are harder to find.

"That's going to be the challenge," he said. "But at the same time, hey, we'll see what happens."
Boston Herald – Bench warrants some kudos
You have to admire JET's Kelly Clarkson impersonation here.  As a fan, you don't want to hear anything less than each player having this confidence for your team.  In Terry's case especially since he got that pre-season ink of Lucky holding the Larry O'Brien award.  Always great to read this even if the odds are greatly stacked against them.
The rest of the links:
Boston Herald – KG, Melo make amends (Sunday Notes) | Boston Globe – Elite Clippers offer stiff test to patchwork Celtics | Three-team NBA trade speaks volumes about direction of Raptors and Grizzlies (Sunday Notes) | CSNNE –  Stretch of adversity brings consistency from Green | Melo still faces challenges on road to NBA | MWDN – Courtside View – Celtics earning some good will