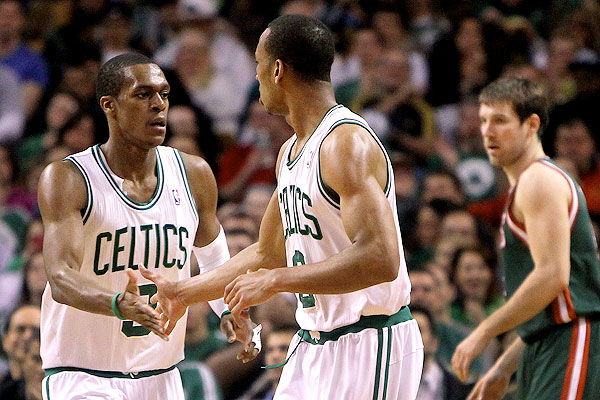 Every morning, we compile the links of the day and dump them here… highlighting the big storyline. Because there's nothing quite as satisfying as a good morning dump.
Many opposing point guards had an interesting take on that moment last season when Rondo, rested up, came back on the floor to replace his young backup. This was before Ray Allen's deteriorating right ankle made it necessary for Bradley to start.

"He's the best defensive guard in the league, hands down. Nobody else is like him," Rondo said of Bradley Friday. "The league will see soon. Guys on other teams are already talking about him to me."

Rondo's eyes crinkled as he broke into a half-smile. He thought back to last season's comments.

"A couple of guys last year had things to say," he said. "It's kind of funny. (Bradley) would finally get out of the game, and I would come in, and they would almost seem relieved — I don't know if that was an insult to me, or just a credit to the defensive player that he is."

Perhaps Rondo's good humor is stoked by one absolute belief concerning Bradley.

"We're going to be a completely different team, just with one player coming back," said Rondo, whose frustration and desire for a change in the Celtics' 13-13 start couldn't be more feverish.
Herald – Rajon Rondo points to Avery Bradley's pressure
The Celtics continue to ride that roller coaster of mediocrity and like a lot of us, Rondo is eager for Avery Bradley's return to the lineup.  From the piece in the Herald, you can tell that opponents aren't exactly feeling so chipper for AB's return.  Rondo even added a moment of brevity to the situation above when he said he didn't know if he should be insulted by his opponents comments (yes, in some ways he should!). Bradley will help quite a bit as Rondo points out, especially defending in the pick and rolls.  Rondo's pick and roll defense, or lack thereof, has been routinely criticized, but he at least explains the toll it takes on him every game to do that as well as run the offense.  It's easy to sit here and say "well so-and-so can do it, why can't he?"  While there is some truth to that, the fact of the matter is, he's not a cyborg, only LeBron James is.
AB will help in an avalanching-trickle-down effect sort of way.  The Celtics defense has been their biggest issue along with rebounding and consistent play even within the same game.  If Bradley can at least begin to help them with their biggest issue, the defense, then it will help.  It won't get fixed overnight but any type of consistency at this point will be monumental for them.
The rest of the links:
ESPN Boston – Eyes on Claws: Melo's 14 blocks – Fab Melo, as Chris Forsberg so perfectly puts it, "posted a rather ridiculous triple-double with 15 points, 14 blocks and 16 rebounds over 36:47."
Globe Sunday Notes – Chandler Parsons had such a great pre-draft workout with the Celtics, he thought he was going to be drafted by them
Globe – Celtics are still trying to figure out if .500 is who they really are (Washburn highlights some of the horrid games of the season, discusses AB's return)
Herald Sunday Notes – Sadly heartfelt reunion (Mark Murphy has some great quotes from Flip Saunders and Danny Ainge about the estranged relationship between Kevin Garnett and Kevin McHale.  Interesting that Ainge said he's almost convinced that their hug was the first time they have spoken since KG was traded here).
CSNNE – A look back at Celtics home performances – (Jessica Camerato goes over some stats and highlights from some of the home games this year)